If you're looking to download torrent files to an iPhone or iPad but cannot find a safe method, check out an application called iTransmission. Any torrent may be easily downloaded into your preferred device using this mobile-friendly version of the desktop Transmission application, iTransmission.
The Best Thing About It Is That It's Free. What Is It That Makes It A Great Alternative?
App Features:
Apart From Being User-Friendly And Completely Free, iTransmission Comes With A Myriad Of Cool Features:
You don't have to jailbreak your device.
It works on all versions of the iPhone and iPad.
Making new torrents is easy; tap the + icon.
One tap allows you to stop and restart your downloads.
Utilize Wi-Fi or data for downloading.
Get information on all your torrents: size, number of peers, upload
speed, and much more.
Friendly interface for users.
A plethora of cool other features.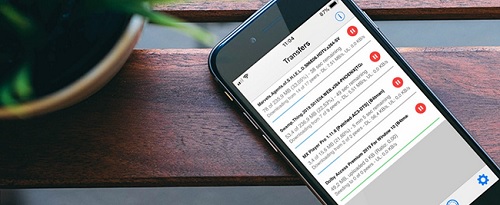 How Do I Download iTransmission:
There is no iTransmission app within the iOS app store as it provides features that Apple does not support. There are two methods to accomplish this; however, one is to utilize a third-party app store, AppValley, and the second is to load an IPA file.
Method 1: Using AppValley
Appvalley Offers A Variety Of Free Games And Apps, Such As The iTransmission App:
Install AppValley on either your iPhone or iPad by visiting the URL below: appvalleyapp.com
Tap the icon in the app to open it, then search for iTransmission.
Download it to your device, and get quick downloads of your most-loved torrents.
How to Fix Untrusted Developer Error?
It Is Possible To Encounter This Error When You Attempt To Use  iTransmission. However, It's Easy To Correct:
Start your iOS Settings app and tap General.
Tap Profiles, search for the iTransmission profile, then tap it.
Tap Trust, then close settings, and then you can utilize it.
Method 2: Using Cydia Impactor
Sideloading an IPA file onto the iPhone or iPad is best accomplished using Cydia Impactor, one of the most user-friendly apps. It is possible to install up to three apps on your device by using this program which can sideload unofficial files and secure them so that it is possible to use the files.
But, it comes with a disadvantage – because the files are not official, you must connect the iPhone and iPad to your PC every seven days and then install the app again. There is no need to remove iTransmission. They are only activating it.
Here's How You Can Utilize Cydia's Impactor To Install iTransmission
Get this Cydia Impactor app onto your computer and then extract the files.
Get the iTransmission IPA file and save it on your desktop.
Plug your device into your computer or Mac, then open Cydia Impactor.
Once your device has been detected, Select Device and click Install Package. Install the Package.
Find and click on the ITransmission file (alternatively, drag the file off your computer and drag it there).
You can enter the password for your Apple ID and an app-specific password.
When Cydia Impactor has finished, follow the steps outlined above to trust the ITransmission profile of either your iPhone or iPad.
You do not need to jailbreak the device to utilize Cydia Impactor; however, If you already have jailbreaks, there's an app called ReProvision that you can download from Cydia and will aid you in signing the IPA files.
Frequently Asked Questions
Here Are The Solutions To Some Of The Most Popular Questions About iTransmission:
What Exactly is iTransmission Used For?
iTransmission is a BitTorrent client specifically designed primarily for smartphones. It allows you to upload torrent files direct onto an iPhone and iPad that runs iOS 10.2 or greater.
Is iTransmission Safe?
Yes, but be sure to download the file from a reliable source. If you don't, you'll end up downloading a faulty file. Also, since there is no need to jailbreak your device, it isn't susceptible to security concerns.
Why Has iTransmission Stopped Working?
It could be because the app's certificate was canceled, but remember that you must activate it regularly. If your icon for the app has been removed, follow the Cydia Impactor installation steps again. If this doesn't work, remove iTransmission and try the process over.
Where Are The Files I Download Stored?
All downloaded files from iTransmission are kept in a folder called iTransmission(bundle)/Containers/Data/var/mobile/Application/Documents/Download.
Do I Need To Jailbreak My Device To Use it?
No. iTransmission does not require jailbreak. You must select which of Cydia Impactor or AppValley to download your file using the safe links available.
Conclusion:
iTransmission is becoming a top-rated application used by millions of people around the globe. It's one of the most convenient ways to transfer torrent files directly to your device without downloading them to your computer and then transferring them to your device.
Give it a shot. It's free to test, and you can delete it if you aren't happy.