A common problem for businesses is getting so busy with the work that they fail to step back and see the bigger picture. This leads to missing out on processes that are failing to work and needing improvement, or missing opportunities to grow your business.
For this reason, it's important to learn not only how to identify market conditions, but also how to illustrate them effectively to an audience. Luckily, a tried-and-true process shows accurate insight, a so-called SWOT analysis.
The SWOT analysis studies the strengths, weaknesses, opportunities, and threats of a situation. It can answer many questions that you didn't even know you had. Each element of the analysis includes a different business situation and opens it up from different sides, allowing you to see the strengths but also the threats of certain aspects.
How To Conduct A SWOT Analysis:
When it comes to conducting a SWOT analysis many get overwhelmed and find it difficult to either criticize or praise themselves. However, if analyzed in the right way all the information you'll need is right beside you. Follow these simple steps to conduct a valuable SWOT analysis.
Identify Your Objective. It's crucial to have an objective or question in mind to get the most benefit from your SWOT analysis.
Do Comprehensive Research. Analyze your industry, market, and competitors. Get a
perspective from staff, partners, and clients.
Come Up With STRENGTHS. Identify what your business's strong sides are. Employees, finances, location, cost advantages, and competitiveness are some things to consider.
Analyze WEAKNESSES. Consider your weaknesses, the things that put your business not in a good competitive position. The absence of new products, staff absenteeism, declining market share, or market distance may be issues that affect your success.
Think of Potential OPPORTUNITIES. Think about some goals you want to reach. Introduction of new products, training programs, partnerships, or a more diverse marketplace.
List Possible THREATS. Identify external threats to your business. The rise of unemployment, more competitors entering the market, high interest rates, or uncertainty in the global market.
Establish Your Priorities. After completing the steps above, you'll have 4 separate lists. Put them side by side, and then analyze what issues should be prioritized and which ones can be dealt with later.
Address The Issues. Develop a strategy to figure out the issues you analyze from the SWOT analysis. How will your strengths and opportunities help work out the weaknesses and threats?
Why it's Worth Using PowerPoint For A SWOT Analysis
Adding a slide with a SWOT analysis to your presentation is always a good idea, as it demonstrates your research in an easy-to-understand way. Here are a few examples of which possible slides you can create in PowerPoint to display your SWOT analysis.
Using Personality For A SWOT Analysis:
An ideal way to reflect on personal changes is to prepare a SWOT. If you've got many ventures and disagreements, a SWOT can bring together the problem and view of yourself.
A Simple SWOT Table:
It can just be a slide with a table, where in each part you concisely list all the necessary details for your analysis. The main focus here is on content, so there is no need for a fancy design or additional graphics.
Demonstrating SWOT Analysis Through Graphics:
A leaf-like shape that uses each of the four parts as a measure. Add animations to the slide so that each leaf comes in stages.
Comparison of Internal And External Factors With SWOT:
Prepare a SWOT that compares internal and external factors, it helps the audience with an understanding of what's in control and what is not. Choose a tree diagram for the best representation.
The Numeric SWOT Analysis:
A SWOT analysis with lots of content must display all the factors. An audience that works in the finance or engineering field, might understand a SWOT analysis with numerics attached.
How To Use Ready-Made Templates For SWOT Analysis:
Preparing a SWOT Analysis can get a bit overwhelming, but then also thinking about how to present it to your management team is another problem. To save your time, MasterBundles offers a great market of unique templates that will help you to deliver a killer presentation and share the key information through beautiful graphics.
All you need to do is choose the right template for you, and then download it. These pre-built SWOT templates for PowerPoint allow you to add your details, change color schemes, and also include placeholders for your images and videos.
You'll just need to type in your own content into the placeholders for text, and for illustrations, just drag and drop saved images from your computer into the designated placeholders.
Key Tips To Create A Great SWOT Analysis For Your Next Presentation:
SWOT analyses are not as intimidating as they seem, although it's not quite as easy as writing a report. Read these tips to save time and design an engaging SWOT analysis presentation to boost results.
Explain The Interconnections:
The strengths, weaknesses, opportunities, and threats without fail interrelate. Emphasize their connection by using diagrams with connections. It will help your company to see how it can utilize internal strengths to overcome external threats and weaknesses.
SWOT Analysis Diagrams:
Instead of using ordinary bullet points and matrices, try creative diagrams. For an interesting presentation, you'll need to find a balance between text and graphics. Using diagrams will play a nice trick on the audience's attention and their perception of the information you present.
Don't worry if you don't have enough skills to create your own diagrams. You can choose from the ready-to-use SWOT Analysis PowerPoint Templates from MasterBundles for a more engaging look.
Choose Backgrounds, Fonts, And Colors Wisely:
To make a presentation more engaging, choose a background color other than white. Dark gray, ocean blue, or similar deep shades are great for business presentations.
Depending on the background you choose, make sure the font is readable and big enough. Select font shades in contrast to the background color.
Choose different shades to highlight the four elements. It will help with pointing out every item as a separate challenge. For clean business presentations, choose colors that compliment each other.
Top 7 Premium PowerPoint Templates For SWOT Analysis:
For a professional-looking SWOT analysis, choose from all the options for PowerPoint Templates from MasterBundles. It's a great solution for those who are busy with other important tasks and don't have enough time to prepare a nice presentation. Here's a list of some premium templates for SWOT analysis:
1.   Annual Report – Animated Template:
This Annual Report template has a  progressive design with many powerful features and over 140 unique slides. The template will help with describing the company's activities throughout the year.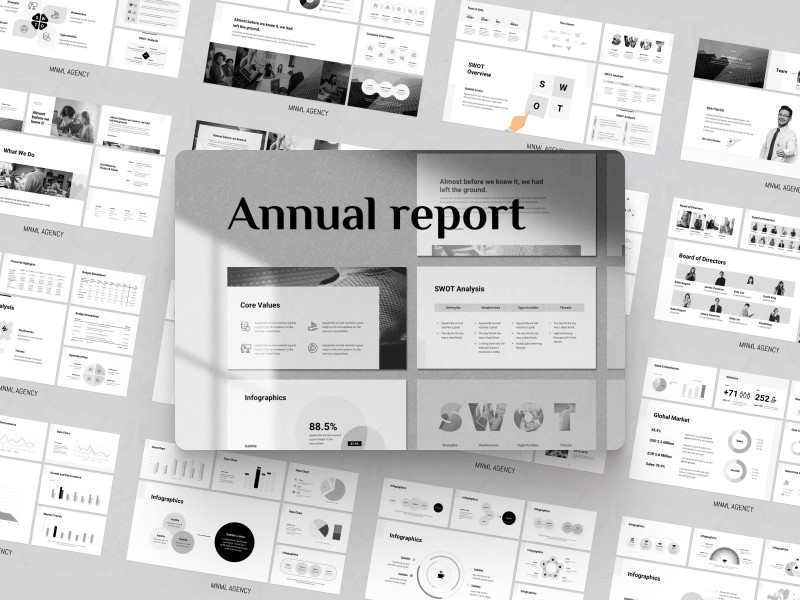 2.   Multipurpose Presentation Template:
This presentation template grants a powerful professional deck with a striking design in just a few minutes instead of hours.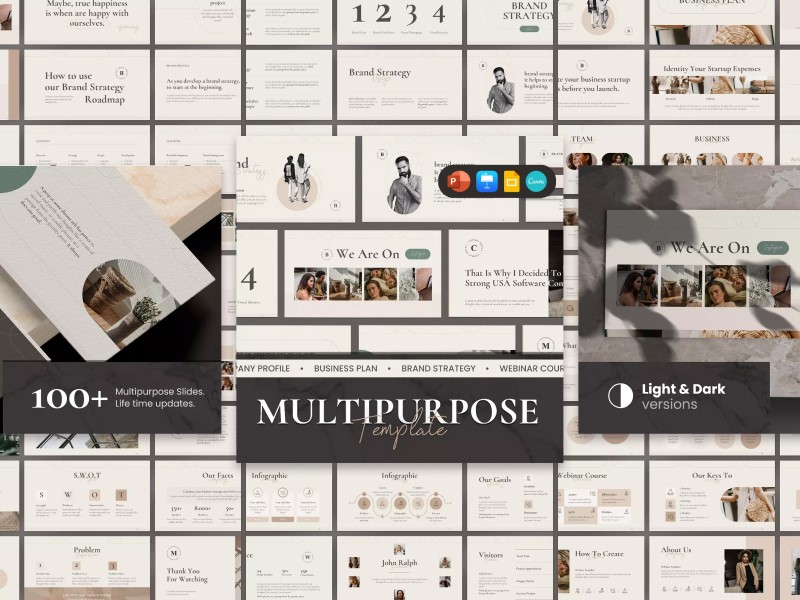 3.   Finco Finance PowerPoint Template:
Finco template has a creative light and dark background version with fully customizable elements, typefaces, icons, charts, and diagrams.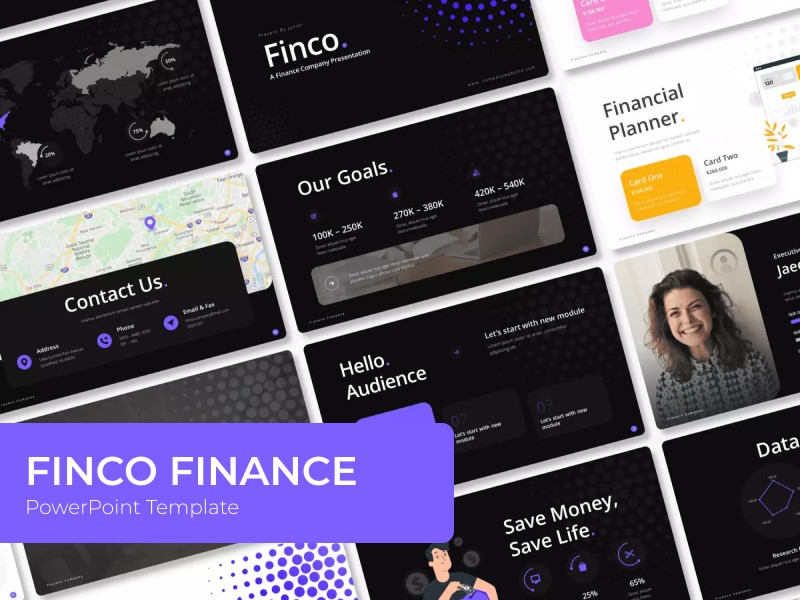 4.   Pitch Deck – PowerPoint Presentation:
This premium deck template provides you with a wide range set of unique slides and designs to deliver a powerful message.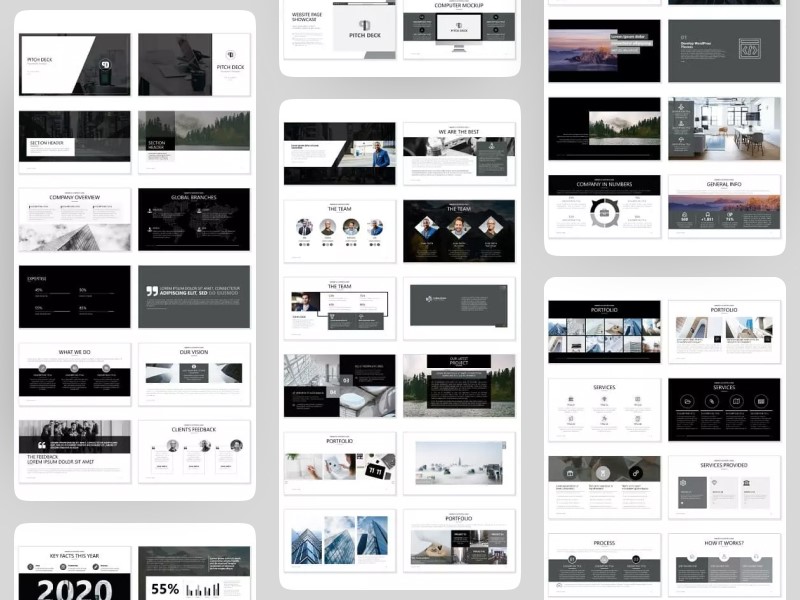 5.   SWOT Urban Fashion Presentation:
SWOT Urban Fashion presentation is a basic, yet modern but powerful design that includes creative photo layouts, infographics, tables, diagrams, and tons of great features to show your work and your company profile to another degree.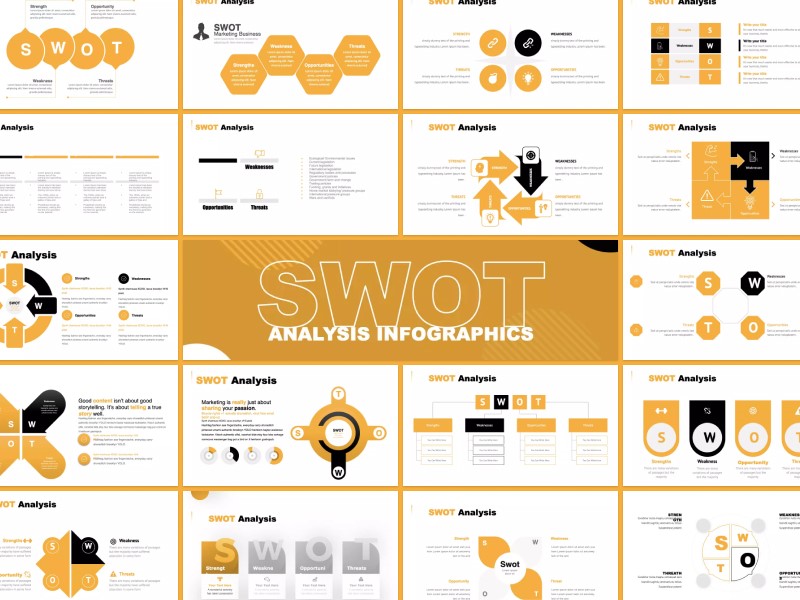 6.   SWOT Analysis PowerPoint Template:
This is a premium SWOT template by SlideModel with a stunning flat design layout which will not only make the added text legible but the puzzle piece arrangements also add some visual appeal to the sample slides.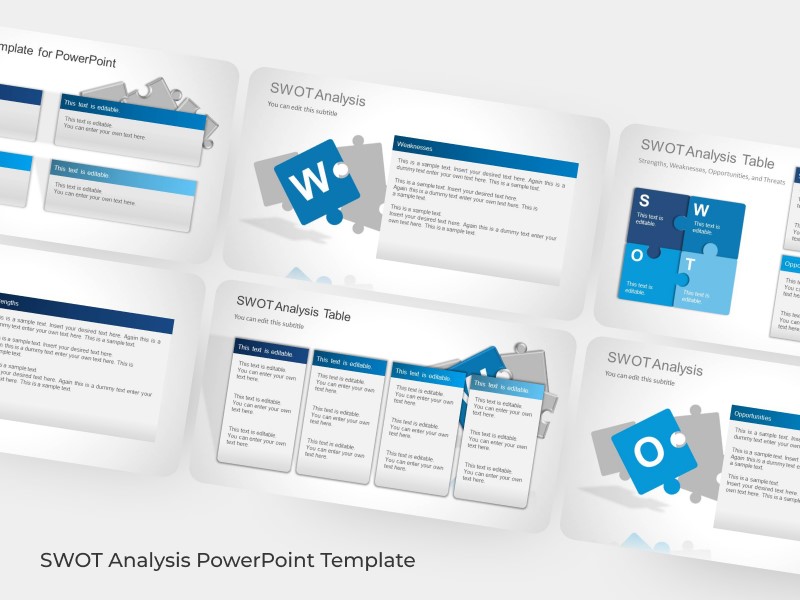 7.   SWOT Analysis Concept Slides for PowerPoint:
This great template can help you add some visual appeal to your analysis and present it with an abstract layout that is harmonious enough to help present your analysis with a clean-looking background.
With a professional SWOT PowerPoint template, you can better convey the message of your research to your boss or manager and share key insights using beautiful graphs and diagrams. Ready-made templates don't require you to think about the design for your next important presentation. The most important thing to worry about is the content, because the design part is taken care of.